The Badgers Take New York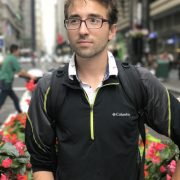 Hey All,
Welcome back for another Saturday edition of the Badgers Take New York
In Episode Six, Nate rejoined Josh and myself as we headed off to explore Staten Island. Not knowing what to expect, we got to the island and headed for the famous St. George Theatre. Unfortunately, with the theatre closed we set off an got some ice cream instead. After stopping at a quaint shop called Tip the Wagon we headed back for Manhattan. Nate took us to the Sony Store where we were able to try VR for the first time. It was intense!
Enjoy and stay tuned for episode seven coming soon when Josh and Myself continue our Adventures to the Bronx Zoo and Harlem!
Your friend,
Badger Joe
EPISODE SIX: Staten Island
Episode Six
Staten Island Ferry (Manhatten, NY)
St George Station (Staten Island, NY)
St George Theatre (Staten Island, NY)
Tip The Wagon (Staten Island, NY)
Sony Square NYC (Manhatten, NY)
EPISODE FIVE: Coney Island/Brooklyn Bridge
Episode Five
Nate's Place (Brooklyn, NY)
Coney Island (Brooklyn, NY)
New York Aquarium (Brooklyn, NY)
Brooklyn Bridge (Brooklyn, NY)
EPISODE FOUR: Times Square
Episode Four
Times Square (Manhatten, NY)
Madison Square Garden (Manhatten, NY)
Empire State Building (Manhatten, NY)
EPISODE THREE: Take Courage America
Episode Three
Central Park (Manhatten, NY)
Sheep Meadow (Manhatten, NY)
Umpire Rock (Manhatten, NY)
Columbus Circle (Manhatten, NY)
EPISODE TWO: Manhattan
Episode Two
B&H Store (Manhatten, NY)
Central Park (Manhatten, NY)
Trump Tower (Manhatten, NY)
Belvedere Castle (Manhatten, NY)
American History Museum (Manhatten, NY)
EPISODE ONE: Welcome to NYC
Episode One
Midway Airport (Chicago, IL)
La Gaurdia Airport (Queens, NY)
Nate's Place (Brooklyn, NY)
Castle Clinton (Manhatten, NY)
Trinty Church (Manhatten, NY)
The Oculus (Manhatten, NY)
Popular Jewelry (Manhatten, NY)
The Barcade (Manhatten, NY)