The Badgers Take New York
Episode 3: Take Courage America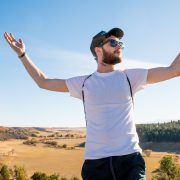 Hey All,
Welcome back! We hope you enjoyed episode two and are ready for more.
Episode Three is a breakout episode based on our day two adventures that took place in episode two.  In this episode, we sit down with Liam to talk about his book "Take Courage America".  Liam shares his thoughts on pop culture and the ideas expressed in his book i.e. racism, courage and insights about the human condition as he walks across the U.S. in an effort to spread his message and promote his book.
If you would like to know more about Liam's book or to purchase a copy visit: https://takecourageamerica.wordpress.com/
Enjoy and stay tuned to see what happens next in episode four on February 23rd!
Your friend,
Badger Josh
EPISODE THREE: Take Courage America
Episode Three
Central Park (Manhatten, NY)
Sheep Meadow (Manhatten, NY)
Umpire Rock (Manhatten, NY)
Columbus Circle (Manhatten, NY)
EPISODE TWO: Manhattan
Episode Two
B&H Store (Manhatten, NY)
Central Park (Manhatten, NY)
Trump Tower (Manhatten, NY)
Belvedere Castle (Manhatten, NY)
American History Museum (Manhatten, NY)
EPISODE ONE: Welcome to NYC
Episode One
Midway Airport (Chicago, IL)
La Gaurdia Airport (Queens, NY)
Nate's Place (Brooklyn, NY)
Castle Clinton (Manhatten, NY)
Trinty Church (Manhatten, NY)
The Oculus (Manhatten, NY)
Popular Jewelry (Manhatten, NY)
The Barcade (Manhatten, NY)